A wealth management platform engineered for growth
Portfolio Health Analyser
End to End, Fully online platform to onboard, transact and track Mutual Funds trusted by 3 Lac Users
✓ Quick paperless KYC & Onboarding.
✓ Pick & Add advisory products add ons like Goal Advisory, Just Invest, Reports etc.
✓ Plug-in our apis to your CRM or Support team solutions.
✓ Ever improving platform. We keep optimizing & adding new features to stay competitive & thrive in a world of reducing margins.

8000 Cr AUM on Orowealth.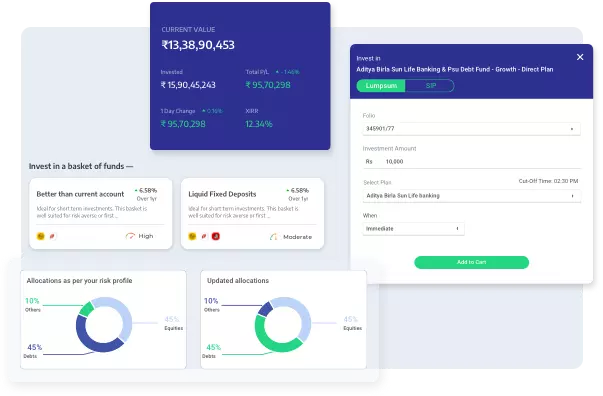 The best client experiences are created with Orowealth
Build & Scale your brand
Personalize the client experience to help enhance your brand. Whether on the website, in an email, or on quarterly statements, clients will see your name and logo.
Provide a intuitive Interface
On our platforms, clients easily see their wealth in one place, understand what they're invested in, and track their portfolio
Drive better investing behaviour
Our products are engineered for growth. We will provide AI driven insights that will help you to enhance your user's experience
User visibility with Admin Panel
Our software automates and streamlines the operational side of your business so you can focus on spending more time with clients and growing your business.
Whether you prefer to go DIY, use our End to End deployment services we will guide you with all the resources to help you get there
DIY
  
Build integrations in-house or enlist the help of a third party.
  
---
Access our suite of flexible APIs and developer documentation.
---
Our Porduct Managers & Engineering Manager are available to guide you
---
Build integrations in-house or enlist the help of a third party.
  
End to End
  
Pick & choose desired products & Features from the product suite Leverage Orowealth's expertise and best practices
---
Self RIA or Oro RIA
  
---
Dedicated product team will scope, build, test and deploy integrations.
---
Receive ongoing maintenance and troubleshooting through designated Project managers.
Ready to get started?
You can contact us to design a custom package for your business.
₹ 8,000Cr+
ASSETS UNDER ADVISORY
1 Million+
PORTFOLIO PDFs ANALYSED