Why you should plan for your child education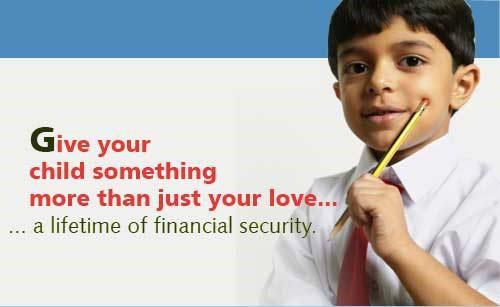 Introduction
College is expensive, and it's only going to get more expensive. Tuition costs continue to climb at a rate significantly higher than the inflation rate. In fact, on an average, the cost of college doubles about every nine years. This means that for a child born today, once they enter college, the college costs will be nearly four times what they are now. You can help your child pay for college by saving (and saving early!), but before you open any accounts, be sure you understand your situation and your options.
The most valuable gift that the parents can give to their children is good quality education. At the same time, it is also the most expensive gift. We ask our children what they want to be when they grow up. And as parents, we must ensure that this goal is met and that we have adequate funds to meet this financial need.
This still leaves you with the job of finding out how much you need to save regularly. Let us assume that you need Rs 15 lakhs in today's terms or Rs 60 lakhs in 18 years time for your child's college education. If you start in the child's first year, you need to invest Rs 10,000 every month assuming that your money grows by 10 percent. Suppose, you delay this by a year, this monthly investment amount goes up to Rs 11,200 and to about Rs 12,700 if you begin when your child is three.
By starting a savings plan early, even before your child begins elementary school, you can reduce the burden of taking on high debt to pay for his or her higher education.
Aspects that dictate your planning
Timing
Timing is of the essence; once a child is born, you have an 18-year timeframe post which the need for higher education will arise. As a thumb rule, the minimum investment time is 18 years, i.e. when the child is born. Unmarried individuals can increase the time duration by adding 18 years to the probable year of having a first child after marriage.
Cost of education
Planning should be done for the costliest education available. No one knows which stream the child may adopt. Having surplus funds is an added advantage.
A thorough analysis is required to determine the cost of education. Just assuming a random figure will not solve the purpose. Apart from the tuition fee, other expenses like boarding & lodging expenses, Books and stationary, uniform (if any), electronic accessories like tablets, laptops etc. must also be kept in mind.
Inflation
An inflation of 8% will double the cost of education in 9 years. If the inflation is 6%, it will take about 12 years. So, the inflation assumption is critical in planning your finances.
What to look for in an investment?
SLR (Safety, Liquidity and Returns) are the three features to look for before investing.
Safety means the soundness of the issuer to repay the principal along with interest. Higher the safety, lower the return. Conversely, Higher the risk, higher the return. Liquidity refers to the quickness with which you can convert your investment into cash. 'Higher the liquidity, lower the return'. Returns are the income earned over the investment by way of interest, dividend, capital gains, appreciation etc.
Which financial instrument to invest in
The instruments available for investment these days include equity shares, government securities, corporate bonds, bank deposits, savings bonds, Kisan Vikas Patra, National saving certificates, post office time deposits, insurance, mutual funds, and money market instruments.
Investing in mutual funds is an excellent way to secure your child's educational future. The biggest advantage of investing in mutual funds is that equity mutual funds can generate inflation-beating returns over the long term with an added advantage of zero capital gains tax. Mutual funds are managed by professionals who have the expertise in cherry picking stocks and they are also highly diversified across stocks and sectors. In the mutual funds' space, parents can create a diversified portfolio for the purpose of funding their children's education.
Open a minor account
Greater than 5 years before the college enrollment, a diversified portfolio consisting of large-cap equity funds and debt funds will be ideal
Less than 5 years before the college enrollment, the portfolio should increase allocation towards debt and balanced funds
Review the portfolio on a regular basis to check if the funds are performing as expected
Conclusion
So when it comes to saving for college, keep these things in mind:
It is better to have money in the bank than to NOT have money in the bank.
It is better to save than it is to borrow.
The earlier you start saving the better it is
In most cases, your savings will not impact your child's eligibility for student aid.
To sum it up, start with identifying the time period and the present day cost of education. After that, using the inflation assumption, calculate how much money is needed in the future. Invest in a diversified portfolio which could beat the inflation.
Help from an expert financial planner
Apart from the child's future, there are other priorities as well as retirement, medical expenses, housing, etc. You should never dip into the funds save for these priorities to invest for your child. Planning better would be sensible and for that, you can take help from an expert financial planner.
ORO is an investment platform for informed investors to make the right decisions. We offer comprehensive financial advisory services powered by our team of world-class experts. Get in touch with us at connect@orowealth.com and we will help you plan your child's educational future.
Created by Orowealth.com