Why and how to invest in Gold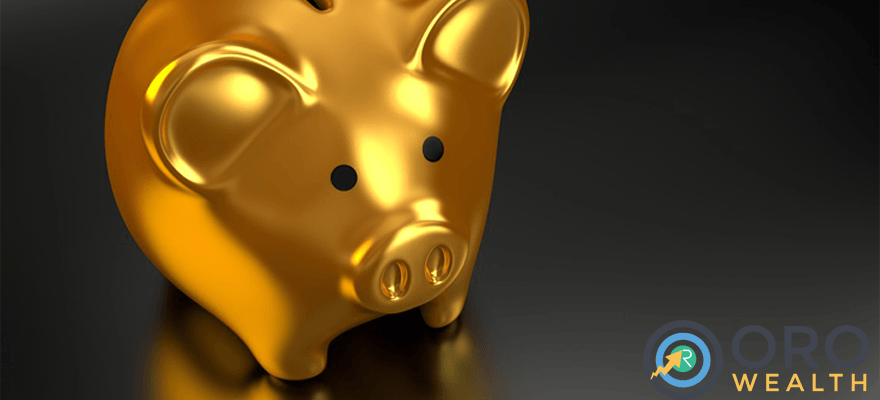 Why invest in gold?
Soft start to 2018: Overall Q1 demand plunged 7%
The gold demand of 973.5t was the lowest Q1 since 2008. The main reasons behind the fall were the declining demand for gold bars, gold-backed ETFs and also due to range-bound price. In the case of Jewelry, the demand was steady with China and the US compensating for the weaker demand from India.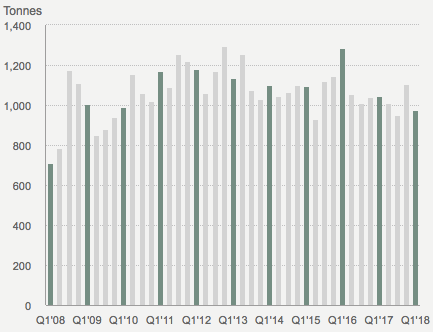 Source: Metals Focus; GFMS, Thomson Reuters; World Gold Council
After reading the quarterly update on the gold market, one of the obvious questions that arise is – should you invest in gold?
The straightforward binary answer is yes. But let us look in detail why and how much should you invest and through which instrument this investment should be ideally done. It goes on without saying that gold is respected throughout the world for its value, its history. The legacy is continued for several centuries now and people have continued to hold gold for various reasons. Below are the reasons why we, at ORO, believe one should invest in gold.
Value is held since ages – Unlike other currency or assets, the gold has maintained its value throughout ages. While people see it as a means of transferring wealth from one generation to other, we believe gold is one of the best instruments that have sustained value for centuries now.
Helps beat inflation – Gold has always been an excellent hedge against inflation. Its price tends to increase with the rising cost of living. Typically while stock tends to plunge during the high-inflation period, gold, on the contrary, result in direct correlation with the increase in price. Thus, it provides a natural hedge against inflation.
Geopolitical Uncertainty – Gold as a universal investment instrument holds its value in times of uncertainty – be it financial uncertainty or geopolitical uncertainty. Often referred to as the "crisis commodity", the yellow metal seems to see a high demand from people when world tensions rise. For example, in response to the crisis in the European Union, the gold prices started to inch north.
Portfolio Diversification – One of the basic concepts of diversification is finding investments that are not closely correlated to one another. Historically, it is found that gold has had a negative correlation with other financial instruments such as stocks. This can be vetted with the following example:

During 1970, while the stock prices were terrible, it was great for gold
During the 1980s and 1990s, while the era was good for stocks, gold price crashed significantly
During 2008, the stock market saw a significant correction to which many investors migrated to gold.
We believe a well-diversified portfolio with the right combination of stocks, bonds (both standalone and in the form of mutual funds), gold and liquid cash in a portfolio will help reduce the overall risk of the portfolio while maximizing returns.
Weakness in global currency – US Dollar is regarded as one of the most important currencies in the world and constitutes to be a part of every treasury reserve held by economies globally. During times when the value of the dollar falls against other currencies as it happened during 2008, it is likely that people flock to the security of gold.
Demand Supply mismatch – Supply of gold in the market has been falling since the 1990s and much of the gold sales is done from the vaults of central banks given the production of new gold from mines has been declining. On the other hand, with rising wealth in emerging markets have boosted the demand for gold over the past couple of decades. Thus, as a general rule, reducing supply coupled with rising demand result in increasing gold prices.
How much allocation should be there in gold?
Investment in gold, as discussed above, should be only considered as a protection against macroeconomic shocks. Thus, it should form a part of your portfolio based on your risk appetite. We believe people in India generally act too extreme. They tend to either invest 100% portfolio in gold or don't invest at all. Based on the risk-return profile of gold and other asset class, it should not account for more than 10% of the total portfolio.
How to invest in gold?
Once an investor has determined the allocation of gold to the overall portfolio, an investor should look at the ways by which an investor can invest in gold:
| | |
| --- | --- |
| Physical Gold | Can be bought as coins or bars |
| Jewelry | Jewelry is another option but the cost of converting gold to jewelry is high |
| Gold Funds and ETFs | Passive investment in gold. An investor can invest in units of gold funds or gold exchange-traded funds (ETFs) that are managed by asset-managed companies. |
| E-gold | Can be bought on a commodity exchange through any brokers. Re-materialization of e-gold allows conversion into physical gold as per requirement of investor |
| Sovereign Gold Bonds | Bonds offer similar returns that are offered by physical gold. It also provides tax benefits. |
To conclude, the bottom line is that gold should be a part of a diversified portfolio of an investor. We believe while the price of gold can be volatile in the short term, it has always maintained its value over the long-term. Over the years, the metal has served as a good hedge against currency fluctuation, rising inflation, volatile asset class, thus gold is an investment that is worth considering.