💸 Sharp sell off, New labour codes & Google picks Orowealth!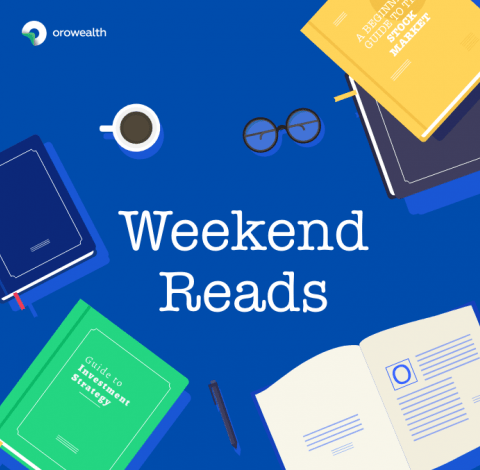 Orowealth Weekend Reads: September 27, 2020
LAST WEEK MARKET MOVES
Sensex
Nifty
Nifty Midcap 100
Nifty Smallcap 100
37,388.66

(-3.75%)

11,050.25

(-3.95%)

16,504.00

(-5.15%)

5,654.95

(-5.62%)
WE GOT FEATURED

⚡️ Orowealth selected for the Google Accelerator program!
Google on Tuesday announced the fourth batch of its Google for Startups (GFS) Accelerator program with 20 startups who will receive three months of support from the network of internal and external mentors in India.
NEWS WE HAVE BEEN FOLLOWING
#NewCodes
India is getting closer to labor reforms with Rajya Sabha passing three labor Codes on September 23. Once the President assents to these Codes, they will become a law. About 29 acts have been subsumed into four Codes; the fourth one came into force in August 2019. The aim of the move is to simplify laws, ensure higher productivity, and generate employment. These Codes are expected to reduce the compliance burden of the industry and enhance the ease of doing business. Meanwhile, they aim to benefit unorganized workers, gig workers, platform workers as well as self-employed workers by providing them some sort of social security. The Codes make a provision for forming a Social Security Fund to fund social security schemes offering benefits like death and accident insurance, maternity benefit, and pension to cover all of the 80% of India's over 50-crore workers who do not have any social security cover presently.
Among other positives, fixed-term employees will get the same benefits as permanent workers and will be eligible for proportional gratuity even if they are on contract for just a year. All employees will get an appointment letter and contractors will pay their wages electronically. Women can now be employed in all companies for all types of jobs, including night-shift duties. The Codes also ensure pay parity for them. All workers who move states and earn less than Rs 18,000 a month will be defined as migrant laborers and will get benefits of government welfare schemes.
Takeaway –
If these Codes become law, they will be the first major attempt at labour reforms since 2002-03.
#SellOff
Equity indices in the US continued to decline as fresh worries about the spread of the coronavirus and about the economy worried investors. With Covid-19 cases growing across Europe and scientists warning that the UK may see nearly 50,000 new cases daily in mid-October if no action is taken, there are worries that these countries may re-impose lockdowns. Technical indicators were already indicating a decline in stocks. The sell-off seen in markets this September is not unusual in the sense that the month is considered to be a seasonal negative and is the worst-performing month on an average in a calendar year. However, it is different in form compared to other years. Generally, tech and growth stocks bear the brunt of selling in this month. But this year, declines have been led by cyclical stocks which had gained earlier in the year on hopes of economic recovery. Political uncertainty after the death of Supreme Court Justice Ruth Bader Ginsburg has also led to a decline in stocks.
Takeaway –
Some analysts expect markets to bottom-out in October and rise as the country moves closer to elections.
FROM OUR BLOG SECTION
An Investment for Each Priority
People tend to think that young investors generally don't know what is important for them at a given stage in the course of their life. An individual has their own priorities that are generally derived from the responsibilities he/she has toward his/her family.
QUOTE OF THE WEEK
"The world is an oyster, but you don't crack it open on a mattress." – Arthur Miller (an American playwright)
Chosen by Ambernath – Orowealth