Generating a detailed consolidated account statement
When it comes to mutual funds, it is important for investors to be aware of the performance of their funds. in March 2015, the market regulator SEBI instructed depositories to take the onus to consolidate all investment information of an investor based on their unique Permanent Account Number (PAN). Following the amendment, all investors are eligible to receive a Consolidated Account Statement (CAS) once every month either by e-mail or post. A CAS is one document that captures the details of transactions and investments across mutual funds that an investor might have.
One of the most important features of CAS is that it captures all transactions (such as new purchase, SIP registration, additional purchase, redemption, switch in, transfer) conducted during the month in different funds by the investor. The CAS also details the complete list of holdings irrespective of the fact that a transaction has been conducted or not during the previous month. In addition, CAS also shows opening and closing share unit balances for each portfolio along with details such as mode of holding units (single, joint, anyone or survivor, etc.), ISIN for each scheme is mentioned.
A CAS also captures personal details such as contact number, PAN number, bank account details, nominee registration status, investor's registered email ID and KYC status.
Sample CAS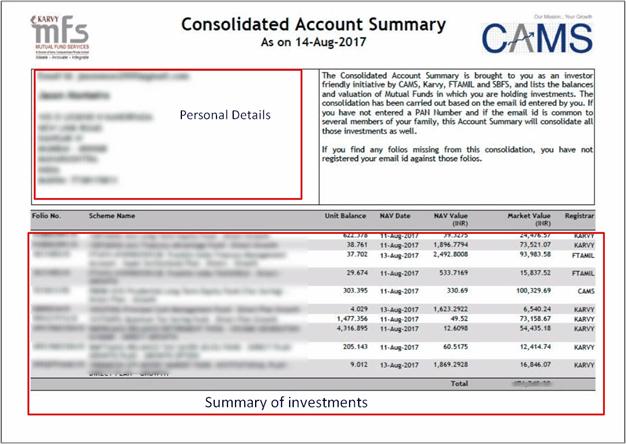 Source: CAMS
How to obtain a Consolidated Account Statement (CAS)
Registrars such as KARVY, CAMS, FTAMIL, and SBFS have provided convenience to investors by allowing to consolidate the holdings within the verticals of each of their funds. Should you wish to obtain CAS from Karvy, you could visit http://karvymfs.com/platformservice/ and key in your registered email id along with PAN and self-secure the document with a password (to open and view the statement, you will be required to provide this password).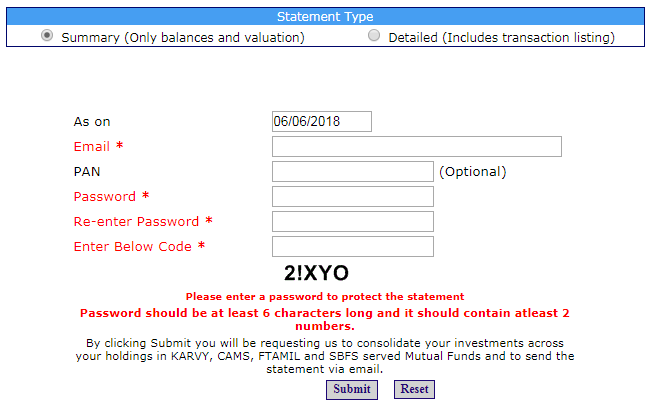 Source: Karvy
Selecting detailed statement type will provide the investor with transaction listing for each transaction across schemes and fund houses. On the other hand, the Summary statement only provides the balance as on date which is selected.
Alternatively, you can write to us at connect@orowealth.com or you can contact us by clicking here. We shall be glad to assist.