Dynamic Funds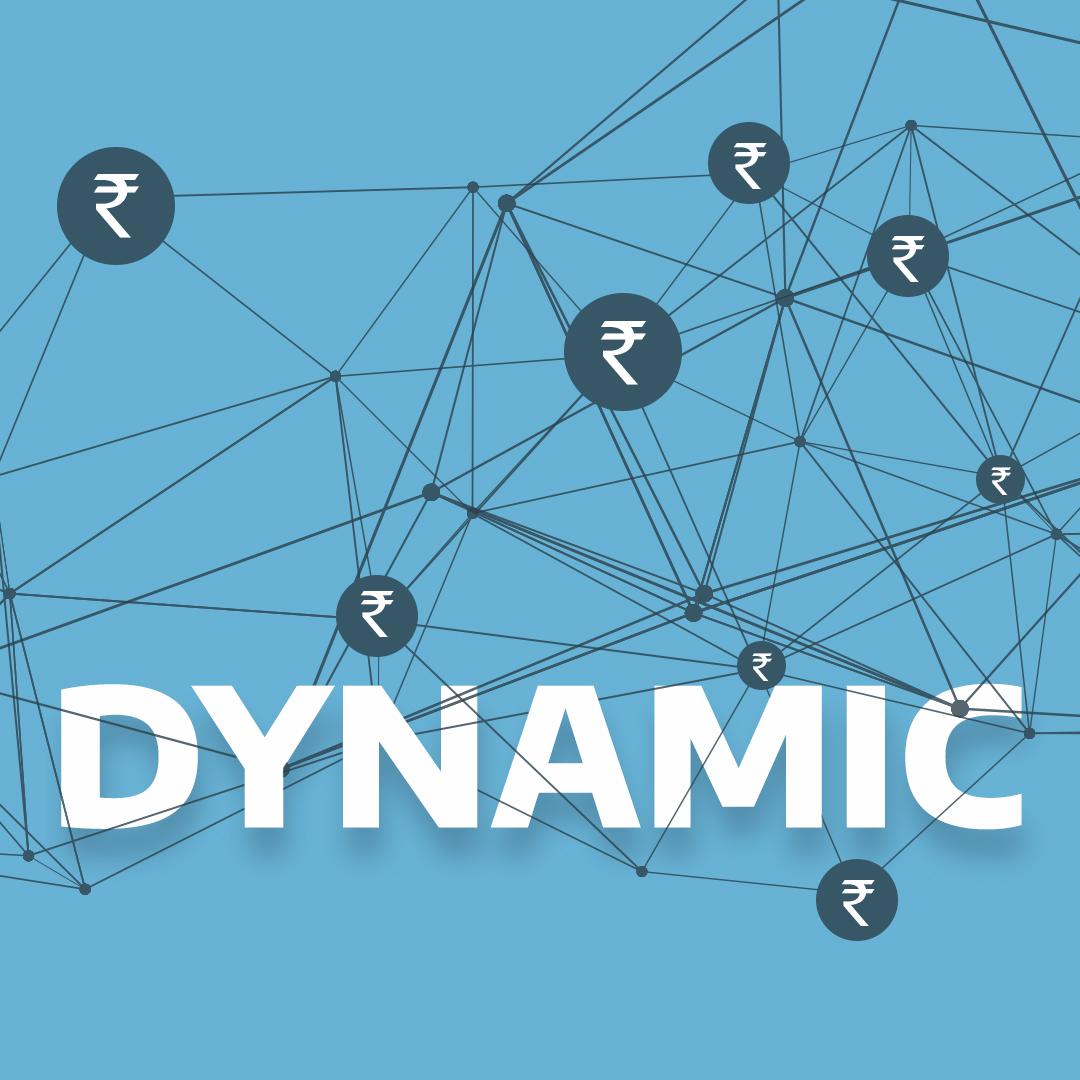 What are Dynamic Funds?
The stock market often has either a bearish or bullish trend of running itself; bearish in terms of fall of price and bullish in terms of rising of the price. It is always tricky to match the timings of these trends and maximize the profit or control the loss accordingly. One needs to constantly be on the lookout of news or stick to the business channel to match the right time. However, giving such constant attention to the investment can be very tiresome for the majority of investors. This is where dynamic funds can help investors in their dilemma. The word Dynamic means 'characterized by constant change, activity or progresses'.
So what change does it bring to mutual funds?
Dynamic funds are those funds who allocate or park majority of its funds in equity when the market is favorable and once the market starts to fall apart, it moves the money from equity to debt securities or money market instruments or cash to balance itself out. The shifting is very quick and dynamic in nature so as to enjoy maximum profit or to stop the loss, depending upon the market scenario.
So now when do these funds decide to board or to abort the ship? This decision is based upon certain formulae such as the price-earnings ratio. This way they predict the nearest future and decide the shifting of an investment.
Who should invest in Dynamic Funds?
Whenever you are investing in equities, it will always attract risk and hence, people with retirement ahead or newcomers should look elsewhere. These funds are for those with patience as for a short-term strategy these funds can be tricky. However, giving these funds an investment horizon of 3-5 years, they can be very profitable for the investment portfolio.
Dynamic Funds Vs. Balanced Fund
Dynamic funds in itself are a type of mutual fund, and to categorize it in the types of mutual funds, we may have to map these funds with the changing investment scenarios. Balanced Funds allocate almost 60-70% of the investment in equities and the rest in debt or other instruments. However, in terms of shifting of investment, balanced funds offer no such provision.
This is where they are the very opposite of dynamic funds. Dynamic funds as discussed earlier, are more actively managed funds who tend to shift in a short span of time to maximize the profits and minimize the loss. In terms of returns, balanced funds can be considered more profitable since it has low expenses due to a lower amount of managing activity. In addition to that, since dynamic funds work on a particular formula, there is a level of dependency on it. Therefore, a failure of the formula can be lead to a low performance of the fund. On the other hand, due to its excessive shifting nature, dynamic funds can earn a considerable amount of profit by switching and protecting the fund, when compared to the static nature of balanced funds.
Benefits of Investing in Dynamic Funds
1. Double Benefit
The dynamic funds comprise of equity as well as debt or money market instruments. Therefore, depending upon the market conditions, the funds are invested in either equity or debt. Hence, the returns keep on flowing, while the risk of changing environment is also taken care of. Dynamic funds, therefore, combine the benefits of both, equity in terms of higher returns, and debt in terms of curbing the risk.
2. Hassle free
In changing market scenarios, if one has invested in equity, they have to be on the constant lookout to rebalancing their investments resulting in unnecessary loss of time and energy. Dynamic funds take care of this for you and shuffle between the equity and other instruments effortlessly.
3. Tax-free returns
Since dynamic funds put more than 60% of its investment in equities, the returns are treated just like other equity-linked funds. If the investment is held for more than 12 months the short term capital gain tax is avoided and the gains become practically tax-free, subject to only if the return exceeds Rs. 1 lakh.
4. Easy Exit
The dynamic funds, unlike other equity-linked schemes, which have a lock-in period of three years, are free of any lock-ins. One can enjoy the benefits of exposure to equity without suffering the exit load.
List of Top Dynamic Funds to Invest in 2018
Following is the list top dynamic funds shortlisted on the basis of higher alpha, lower standard deviation, higher risk-adjusted returns, and longer fund history.
Looking from the overall perspective, ICICI Prudential Long Term Fund has performed supremely with highest returns. However, from the risk point of view, the fund is highly volatile with a standard deviation of 4.58 being the highest of the above lot. For risk-averse investors, UTI Dynamic Bond Fund comes with a lower risk with 4.01 standard deviation.
Performance of Dynamic Funds in India
Dynamic funds are currently in their adolescence, with investor attraction definitely increased over the period. The unique selling point ('USP') of dynamic funds is its diversification and the swift transition of equity to debt and vice versa.
Dynamic funds generate greater risk-adjusted returns by evaluating the funds based on price earning ratio of different indices such as Nifty or BSE Sensex and then exposing themselves to the equity market. The investors need not worry about the market fluctuations as the fund manager helps to cater the fund requirement, while maximizing the returns and protecting the money. As seen above, the performance of dynamic funds in India has been subtle, not over the line. However, dynamic funds have seen a consistent rise in their popularity since their inception. We are a developing nation and the industrialization in the country is at its all-time high. The corporate sector tends to blossom in such an environment. Therefore, the equity-backed instruments are expected to be profitable in the near future.
Steps to Invest in Dynamic Funds
For starters, an investor needs:
1. Pan Card
2. Bank account
3. KYC compliance.
Once these formalities are complete, the other task is to identify the fund and fill in the application form.
Now the funds can be purchased either online or offline. One key question that troubles an investor is whether to opt for a direct plan or regular plan. Direct plan results into lower annual charges and higher returns compares to regular plans. While the purchase of regular plan through intermediaries like banks, stock brokers, small advisory companies etc, attracts commissions.
Now following are the brief ways how one can invest in dynamic funds:
1. Through Demat & Online trading account
2. Electronic Money Transfer – (RTGS, IMPS, NEFT)
3. Electronic clearing services
Taxation of Dynamic Funds
The taxation of dynamic funds is tricky since the funds keep on deviating from equity to debt or other financial instruments. Therefore, for dynamic funds to attract the advantage of equity-based funds, it must have an average yearly exposure to equity instruments of minimum 65%. Once the funds satisfy the condition, the gains on such funds can be tax-free provided they are held for more than one year and the total gain do not exceed INR 1 lakh. However, if the funds are liquidated before one year, the gains on such funds attract short-term capital gain at a rate of 15%.
If the fund does not qualify for the equity fund investment, they can attract tax as per tax slab of an investor when it is a short-term capital gain. It attracts a tax of 20% for LTCG with indexation benefit for long-term investments. Further, the one-year criteria for evaluating whether the investment is long term or short term gets converted to three years in case of non-equity fund based. Moreover, in the case of NRIs, on redemption of the investment, a tax is deducted at source on capital gains.