Decoding Demat accounts
A Demat account, also known as the dematerialized account, is similar to a bank account but is meant to hold financial instruments in electronic form. Financial instruments include shares, bonds, government securities, mutual funds etc. A demat account functions similar to a bank account where securities are held and are debited or credited according to the trading activity conducted.
Before we delve deeper into the basics of demat account, let us discuss what is dematerialization.
Dematerialization is the process by which shares in physical form is converted into electronic form. Dematerialization of share is an important step to ensure seamless trading
.
Why is a demat account required?
Prior to demat mode, the trading in securities was done by way of physical shares which was time consuming, lengthy, and came along with other risks such as theft and loss of share certificate. With dematerialization, the transparency and execution are faster and the risk is minimized to a great extent as transactions are now done electronically. In fact, the shares issued by way of corporate action such as the rights shares or the bonus shares also get credited to the beneficiary account seamlessly. Thus, to achieve seamless trading and investing activity along with minimal process and risk, it is important that dematerialization of securities is done. Also, it has now become a prerequisite to trade with India's stock exchanges
.
How does demat account work
A depository is similar to a bank where the investors hold shares in electronic form through depository participants (DP). India has the following two depositories –
·

       
National Securities Depositories Limited (NSDL) –
16-digit demat accounts with the depository starts with alphabets 'IN' followed by numeric digits. For example, IN23000012345678 has IN230000 is the DP ID (eight digits) while 12345678 is the client ID (eight digits).
·

       
Central Depository Services Limited (CDSL) –
16-digit demat account number is 16 digits long with digits in its entirety. For example, demat account number 1234567800000123 has 12345678 as DP ID with 00000123 as Client ID.
An investor has to open an account with the depository, through a DP that acts as an intermediary between the depository and the investor. A number of banks (HDFC Bank, ICICI Bank, etc.), brokers (India Infoline, Motilal Oswal etc.) and institutions function as DPs.
Whenever an individual/entity buy or sell shares, respective depository participant debits/credits the account as per the trading activity carried out.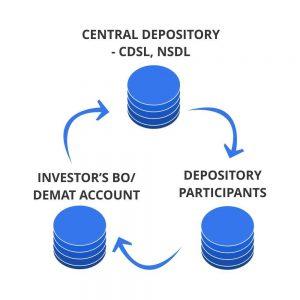 How can you open a demat account?
For investing, you need to have these three in place – a bank account, a trading account and demat account. Demat account can be opened with any bank/brokers or financial institutions. DPs charge a nominal account opening charge, annual maintenance charge, transaction charges, etc. This fee differs from DPs and customized offer for individuals is also available depending on the kind of relation the individual is willing to maintain with the DP. Opening a demat account is very easy. All you need is a form of opening account along with the following documents
:
·

        
Proof of identity
·

        
Proof of Residence
·

        
Bank details (to be supported with a canceled cheque, it is mandatory that the branch has MICR code)
For seamless trading, it makes more sense to have a 3-in-1 account. For example, if the savings and trading account and demat account are with different financial institutions, making a transfer from savings to trading account for executing trade takes long and the possibility of an investor losing on good investment opportunities increases. For 3-in-1 account the fund transfer and execution is comparatively seamless
:
·

        
Transfer fund from savings account to trading account
·

        
Buy/sell securities from a trading account
·

        
The actual credit of shares is shown in the demat account
How has demat account penetrated over the years in India?
We believe, in the last decade, the Indian capital market is moving towards paperless trading at a rapid pace. Of late, not having a demat account has now become the biggest entry barrier for participating in Indian equities. Since 2012, the number of accounts has increased significantly by 1.5x a depicted in the table below.
We hope we have covered most of the basics. Please feel free to reach us at Connect@orowealth.com in case you have any queries or signup at www.orowealth.com/signup and we'd be happy to help! 
Created by Orowealth.com