10 Ways to Entertain Guests on a Tight Budget
Who says you need a lot of money for a successful party? Whether you host a festive gathering, children's birthday party or just a casual dinner – you can be a successful host with minimal expenses. Here are 10 ways you can entertain guests on a tight budget.
1. Party at home
Organising a party at a resort or hotel is very convenient, but it can also make a serious dent in your monthly budget. So one of the first rules of entertaining on a tight budget – is to bring the party home.
Here are simple, inexpensive and quick tips to get your house party ready in no time:
• Less is good. Clear away all the visible clutter like old papers, files, clothes, boxes in the house.
• Use tea candles in covered glass lamps. For the verandah/balcony/terrace/lawn you can even go rustic and use old kerosene lanterns. Place them far apart to keep the smell and smoke away from your guests.
• Use series LED serial lights in yellow or off-white shades. These strings of the light can be placed just anywhere. For example, you can stuff the string gently into a glass jar or an old wine bottle and use as a lamp. Alternately, you can place the string of lights around your bathroom or dressing mirror and turn off the other lights in the room.
• Instead of a diffuser, use drops of vanilla essence, lemon juice, lemon peel, orange juice or orange peel on cotton balls around the corners of each room. Make sure you use only one of these on a given day.
• Instead of expensive flower arrangements use small wildflowers, dried pine cones, coffee beans, glass pebbles, small earthen pots or beautiful combination of fruits for décor. If you have a good collection of books, you could even use them as part of your décor. Books are also great conversation-starters.
2. Use your space well
One of the main problems in cities is the lack of space. So when you think of a party at home, it seems appalling to cramp up many people in one small living room. But hiring a hotel ballroom or lawn can be an expensive affair.
Here's how you can organize a good party within the space you have at home:
• Limit the number of guests to a select group. If you must invite a lot of people, then see if you can break up the groups to 2-3 different dates. Space out these events over a couple of months or weeks
• Use different parts of your house for different groups. Decorate all the rooms with strings of lights and keep all the doors open. Your guests will know the entire house is available for them to move around freely and will naturally choose some areas of the house to eat and chat.
• Organise a small table with snacks in the living room as well as a bedroom. Empty one room or area for children to play and organize kid-friendly snacks in that room.
• Place clean soft carpets, floor cushions and pouffes in all rooms so that you don't have to clutter each room with chairs. Only elderly guests may need proper chairs or a sofa.
3. Public parks and gardens as the venue
If you are organizing a casual lunch or a birthday party, see if you can find a public park or a museum that allows you to get together without charging a fee. In Bangalore for example, you can throw a fabulous day party at Cubbon Park. Here you have the daylight, green cover for shade and open space for children and adults to move around freely. You can carry cold salads, pre-cooked pasta, sandwiches and juice boxes, fold out table and bench and a couple of dhuries. Open spaces and trees will make sure you don't have to entertain your children either! Even Mumbai has many such parks like Dharavi nature park, Sanjay Gandhi National park etc.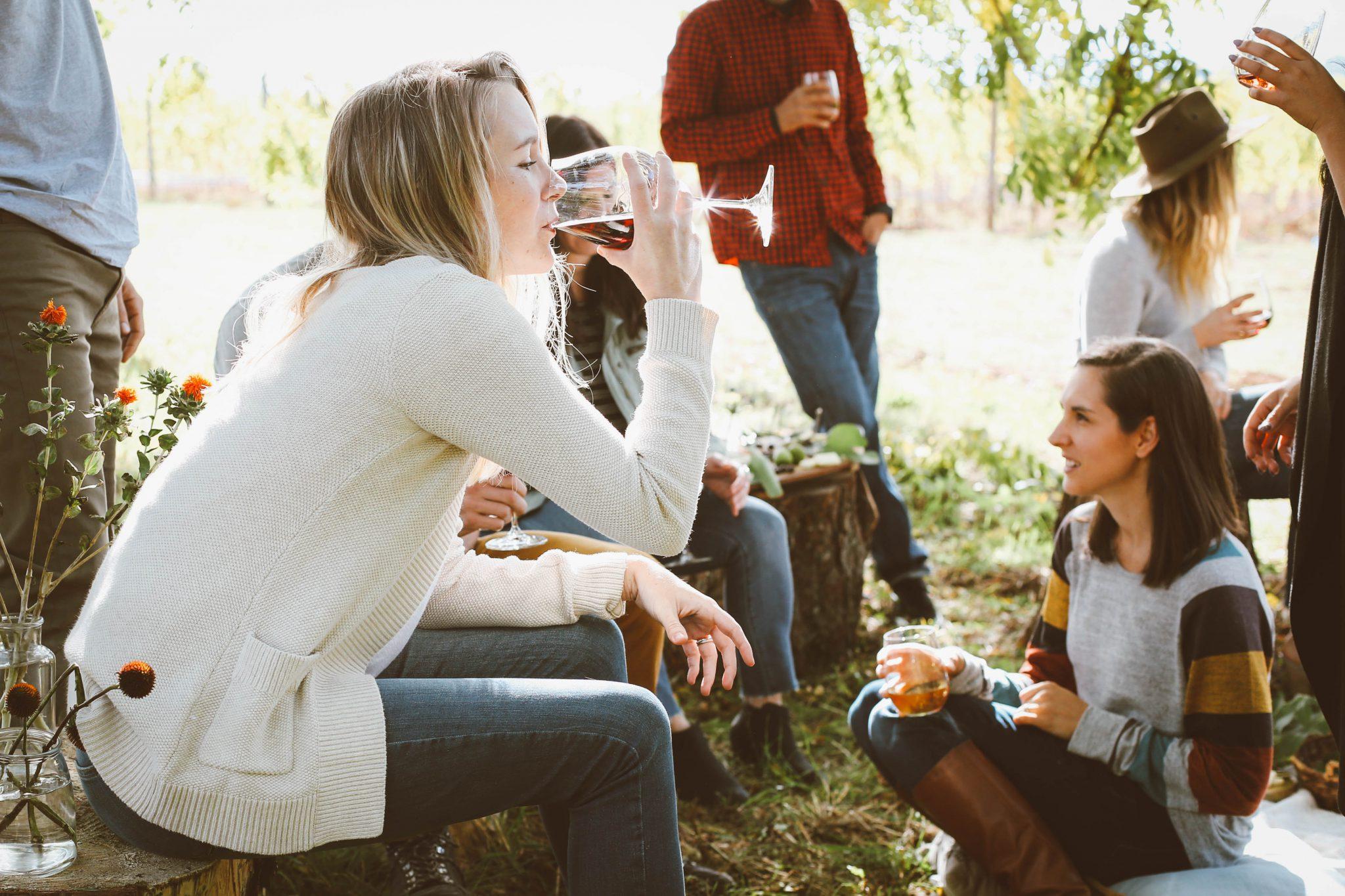 4. Take help offered
If your friends offer to help you make sandwiches, take the help. If your neighbours offer to bring in a tub of cheese dip, accept it while you organize the chips. If you can borrow large containers and utensils for cooking and serving, borrow instead of buying. You would not need these things more than a couple of times year anyway.
If you are cooking ahead, then you could also store some of the food in your neighbour's refrigerator.
5. Save electricity
Keep AC off and fans on. Open up the front door and the windows if the cross ventilation can keep the house airy and cool. It also allows your guests to walk right into the party.
If you are partying during the day, then use natural light as much as possible. Open up the curtains halfway or use curtains of plain pastel shades so that that room can be cool and bright at the same time.
6. One large pitcher of drink
Good drinks are usually an integral part of a good party. But catering to each guests' individual choice could cost you a lot of money. You may also end up with a lot of unused drinks or alcohol.
Instead, why not offer drinks that can be made in large batches – like Mojito, Sangria, a mocktail punch, thandai, South Indian Rasam. For children, you can switch to pitchers of lime juice,thandai, rasam or juice boxes.
When everyone drinks the same drink, there is less left over. Same goes for fresh juices for children. If you are outdoors, you can offer juice boxes to children, so that unused ones can be stored for another day.
7. Fruits as dessert and décor
Fruits are simple, versatile and less expensive than desserts. You can offer fruits as starters or as an end dessert. Fresh fruit cut in cubes or on sticks goes well with honey, ice creams, chocolate syrup or rich sweet cream.
You can also keep extra fruits stacked attractively in a glass fruit bowl that can add to your table décor. If you fall short on your dessert, you can always dig into this lot.
8. Good song list
Music sets the mood and tone for your gathering. A good song list can elevate your party from a casual gathering to a roaring success. So take the time to curate a good list of songs depending on your guests. Children and adults all have different tastes in music.
Use your wi-fi and a good Bluetooth speaker and play the music lightly in the background. Putumayo world music, Jazz classics, old Hindi songs, ghazals, Bollywood dance numbers, instrumental flute music – your options are endless!
9. Cook at home
Ordering food is always more expensive than cooking at home. If you can cook at home then choose food items that can be prepared in large batches. In India here are some of the popular options
• Biryanis
• Sandwiches
• Fruits
• Pasta
• Noodles
• Baked or fried chicken
• Salad sticks
• Vegetarian or non-vegetarian curries with toasted buns/paav/ bread
• Paav bhaji
Roasted peanuts Nuts, cucumber & carrot sticks, unbranded-wholesale chips, roasted slices of tomatoes, slices of pears are some less expensive options for a snack. These are filling enough to hold the guests until dinner.
10. Movie nights
Who said movie nights have to blow a hole in your wallet? Here's how you can host a movie night on a tight budget too-
• Hire or borrow a projector. Empty a wall and project a movie on this wall. Soread around floor cushions, bolster pillows, carpets and dhurries to make everyone comfortable.
• If you have a large screen TV, then you can skip the projector. Make the bed or floor comfortable with carpet, dhurries and cushions. Draw all the curtains close, turn off lights and play a movie.
• Organise easy snacks like chips with dips, carrot sticks, home popped popcorn, chicken or fish fingers, french fries etc. A meal can be convenient make-ahead options too like fried rice, biryanis, rolls, pasta etc. Your guests can just pile these foods into individual bowls from a large serving bowl all the while watching the movie!
Money should not come in the way of having a good time alone or with friends and family. You can use these tips and have many wonderful times with your loved ones any day. We would love to hear from you about your next party. Cheers to that!